The costs associated with building a website
I previously discussed how The Free Website Guys helped me build my first ever website. As you might have inferred from their name, they set up my website for free (although they do have a paid service).
I dove into this endeavor knowing fully well that I would have to shell out something, but some website costs aren't evident until the moment you need certain services. That's why I'm writing this blog post!
Where to start
You might be thinking that finding a good hosting and domain name provider is the first step. Well, that depends on where you are in your journey. Since I was a complete beginner with absolutely nothing but my skills and previous work experience, I started out with a color palette.
Your brand colors will come in handy later when you're building your site or even when you're just creating invoices, contracts, or welcome packets for your clients. Using a single color palette across everything (website, social media sites, documents) makes you look more professional.
I used Coolors and Colormind for my palette. You can go to those sites and start looking at random swatches of colors until you find a shade you like, which you can then lock in place.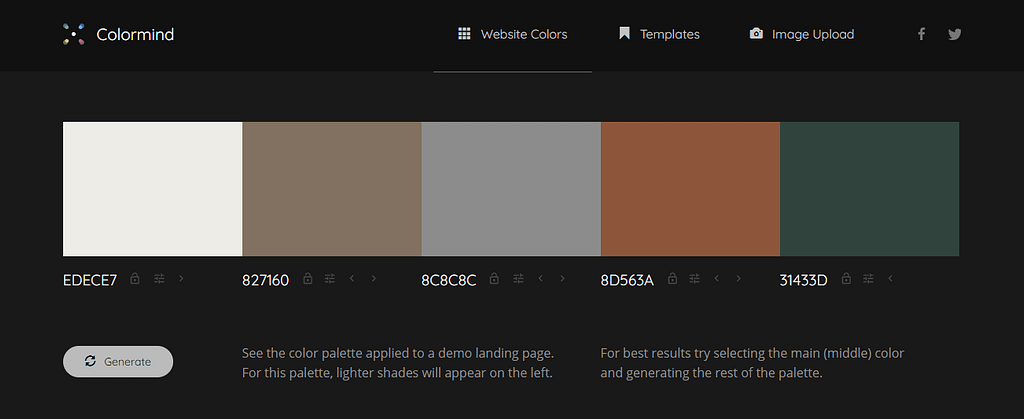 I like Colormind a bit better because it applies your palette to a demo website page, so it gives you an idea of how your chosen colors play together.
Repeat this process until you have 4-5 colors on your palette. You may not need all of them at once, but it's always great to have options.
Take a screenshot and note down the hex codes of your brand colors.
Cost: $0
After that, your logo
Now that you have a palette, the next step is to create a logo using your brand colors. When I asked someone to create it for me, my website wasn't on my mind; I just wanted something to put on my invoices because they looked plain without a logo. But you will definitely want one for your site.
I headed over to Fiverr, a freelancer marketplace where you could avail of various services. There are a lot of graphic designers there for nearly all styles and budgets, so you will definitely find someone to design your logo.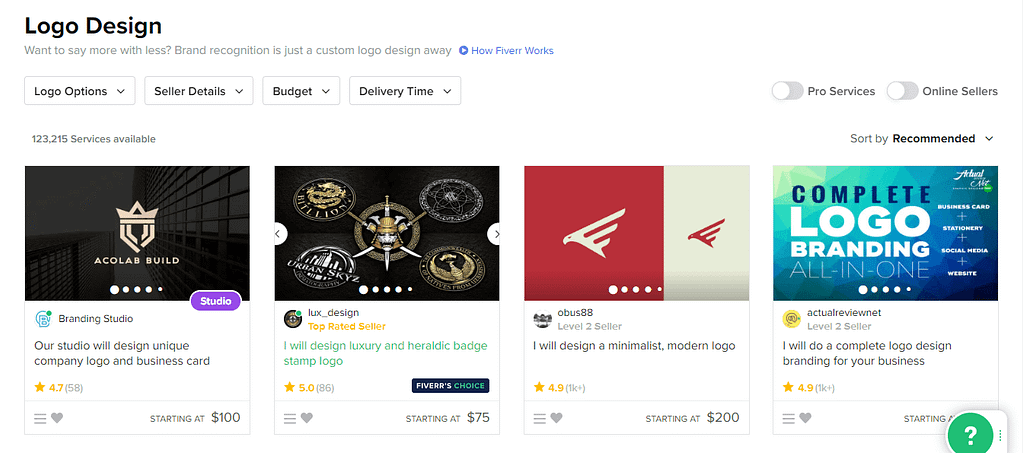 Make sure to look at your chosen designer's portfolio and job description before committing so you know they can interpret your ideas in the style you want. And be as detailed about your request as possible; you can't expect them to read your mind.
I chose Mount Design for this short project and told them the fonts, colors, and other stuff I wanted on my logo. I also gave them samples of logos I liked so they could have a better feel for what style I was looking for.
If you choose Fiverr too, explore the price options a bit. Mount Design's advertised price was for a logo with a turnaround time of 24 hours. If you're willing to wait two days, the price would be lower. Since I wasn't in a hurry, I picked the lower price — but I still got my logo within 24 hours, anyway.
I also chose the middle-tier package because it included 3 concepts, source files, and vector files. That was $25 in all, plus a $2 Fiverr fee. But I had a $5 coupon for being a first-time customer, so I only paid $22.
Should you wish to keep your website costs down, you can always design a logo yourself. If you create one using platforms such as Canva, always take note of permissions, licensing, ownership, and such.
Cost: $22 (non-recurring)
And next, your domain name and hosting
By this time, The Free Website guys had contacted me to sign up for Bluehost through their affiliate link. As I mentioned in my previous blog post, I picked their Choice Plus plan because it included domain privacy protection.
Why exactly do you need that? As a domain registrant, your private information (name, address, phone number, email address) is stored in a database called WHOIS, which just about anyone can access. Unless your host provides domain privacy protection, this information is right there, ripe for the picking.
Here's how my information looks with Bluehost's domain privacy protection in place:
Anyway, you can choose to avail of hosting anywhere from one to three years. Your domain name is free for one year, no matter which contract length you choose. You get the best price if you decide to stay with Bluehost for three years, though. I plan to shift to Namecheap eventually, so I picked the one-year plan, which costs $7.95 per month.
Cost: $95.40 (recurring)
Wait, themes are paid, too?!
Now for the next step: choosing your website theme. You don't have to go with a paid theme; if you're on WordPress, there are a lot of free themes to choose from. The first one I picked was Go from GoDaddy because it looked good.
But Sven, my point of contact from The Free Website Guys, gave me access to an Astra pro theme for $25 so I went with that. Thankfully, Elementor, a page builder plugin for WordPress, has a free version, so I didn't have to pay for it.
You have other choices, too. The Free Website Guys recommend Divi, another page builder that comes with tons of free layouts. Showit is a more expensive option, but I've played around a bit with this builder and it's easy to design your site once you get past the learning curve.
Cost: $26.50 (non-recurring; the extra $1.50 was for PayPal fees)
Lastly, storage
The Free Website Guys asked me to create a new Google account that they then connected to Google Analytics and Google Search Console. They also used its Drive to store my website backups.
I didn't know that backup files could get this big, but the free 15GB storage was almost gone after about a week. Not wanting to delete any old backups yet, I decided to purchase a 100GB plan from Google One. It costs ₱889 a year (or ₱89 per month if you want to pay monthly), a price I thought reasonable. I also love how they have local pricing.
I got to make use of all this extra space by dumping all my older files there from my main Drive, so it's a win-win. It's always great to have plenty of cloud storage for your important files in case anything goes wrong.
Cost: Around $18 (recurring)
Total website costs so far
All of that comes up to $161.90. It's not a huge amount if you're from the US, I guess, but since I'm from the Philippines, it's pretty significant. If someone told me at the outset that I'd be spending this kind of money on my first website (even if The Free Website Guys' service was free), I would have hesitated for sure, especially knowing what I know now about the consequences of the coronavirus pandemic!
But, well, I'm proud of how my site turned out, so I don't really regret anything.
And there you have it — how much it costs to build a website. I hope this article helps!